It's been awhile since I've done a bookshelf post! Today I'd like to share with you what I've been reading this month and what I'll be picking up soon. (Technicality: several of these are not physically on my bookshelf because I had to return them to the library, but you know. We can pretend they are.)
Just finished: Untamed by Glennon Doyle
This was going to be a book-club book for me, but our book club sort of took a holiday hiatus and when the audiobook showed up in my Libby app a few weeks ago, I decided to read it anyway. I have mixed feelings about this book. The personal-narrative parts were compelling to me, and the broader generalizations about ~why women are the way we are~ were less so. I enjoyed hearing about Glennon's big life changes (I don't want to spoil things for you so I'm keeping it vague) and how she approached them, but I found myself tuning out during the sections that went on about her more abstract ideas. At several points I was genuinely moved and I even cried a couple times. If you are a fan of Glennon's past work or generally like books of the self-help and female empowerment variety, I think you'd like this one too.
Just finished: The Stone Sky by N. K. Jemisin
This finale of Jemisin's Broken Earth trilogy was as engrossing as the last iteration and brought the story to a satisfying conclusion. Like the other two books in the series, it takes work to read; you have to pay attention to the details and mechanics of this fantasy (or is it?) world to get the most out of it. In my opinion, that work is worth it. Although the first book (The Fifth Season) still stands out to me as the best, and its unique structure sets up some incredible twists, Jemisin had plenty of reveals left up her sleeve for the second and third installments as she expanded our understanding of her world and introduced a secondary protagonist. Jemisin is a talented storyteller and I look forward to reading more of her work.
Just finished: Uprooted by Naomi Novik
Uprooted is a fairytale that takes pleasure in subverting the typical fairytale tropes. It presents an enchanting world with a likeable protagonist (although her best friend, despite driving a lot of the plot, has no character development or personality). I was especially endeared to the Eastern European-inflected setting due to my own family background (although a sovereign Ukraine doesn't exist in this fantasy world between the Poland and Russia stand-ins, I….pretended it does). For this and other reasons, it reminded me a lot of Leigh Bardugo's Shadow and Bone, so if you liked that book I bet you'd enjoy Uprooted as well (and vice versa). The last quarter or so of the book was lackluster for me, as all seemed hopeless and the story wallowed in the bad parts a bit too long for my taste. But of course, like any self-respecting fairytale, there is a happy ending.
Just finished: The Starless Sea by Erin Morgenstern
I…don't know how to feel about this book. Let me rephrase that: I don't know how I feel about this book. Actually, it's more that I feel several conflicting feelings about this book and am trying to figure out how to talk about them. First of all, Morgenstern's prose, overflowing with description and lavish with details, annoys and compels me in equal measure. "That's not how you're supposed to write!" I grumble, reading page after page describing a party that amounts to a bookish, daydreamy, Tumblr-scrolling teen's fever dream. And yet, I keep reading. And there's still a part of that uncool teen within me that genuinely loves it and wishes I, too, could stand on the shores of the Starless Sea. Morgenstern gives voice to that impulse for fantasy and extravagance that I suspect still lies dormant within a lot of us cynical adults, and I have to grudgingly respect her for it.
One part of this book I liked unreservedly was Morgenstern's lack of concern for justifying or explaining her fantasy world. How, exactly, did there come to be a mystical story-flanked sea under the Earth's crust? Who cares; it just is. Some people may hate this lack of explanation, and I get that too. But for me, a story is always more exciting when there's still an element of mystery to the phenomenon or danger present. For example: When a dreadful monster is finally revealed, it always lets me down, because the fun and horror and uncertainty of imagining what it could be is more compelling than its actual form. (See: Stranger Things.) There are no monsters in The Starless Sea (okay, maybe a few, but they're not really important), but the effect is the same. By refusing to explain how or why (beyond a certain extent of revelations to move the characters along), Morgenstern keeps the magic and the mystery intact.
A few final thoughts about this book (I read it the most recently, so I have a lot of reactions fresh in my brain!): Its structure is ambitious, interweaving tales that exist in the world of the main characters (I know there's a word for this, but I don't know what it is!) between each chapter of the main story, and I think it really works. That said, the main thread of the story and the main character are both kind of passive. Zachary Ezra Rawlins (whose full name is stated far too many times, IMO) is sort of swept along by the ambiance and the mystery of this whole deal, and as the reader I found myself swept along in those currents, too. The Starless Sea frustrated me at times, but it was certainly an enjoyable and atmospheric read. If you love fantasy and/or describe yourself as a "reader," I'd recommend at least giving this one a try.
Currently reading: Braiding Sweetgrass by Robin Wall Kimmerer
I've had this book recommended to me countless times and I've been meaning to read it for over a year. (I've actually had it checked out from my university's library for a about the same amount of time…I have to return it next week, though, so I'm really motivated to finish now!) A few chapters in, I already love it and feel like it's going to become one of those favorite-status books for me. I want to highlight something on every other page and I think I'll just need to buy my own copy so I can. If you aren't familiar, ecologist Robin Wall Kimmerer blends the Western science she was trained on and the Indigenous knowledge she was raised with to talk about the natural world and humanity's place in it. The result is absolutely captivating and if you, too, love nature, I would highly recommend it.
Up next: The Long Way to a Small, Angry Planet by Becky Chambers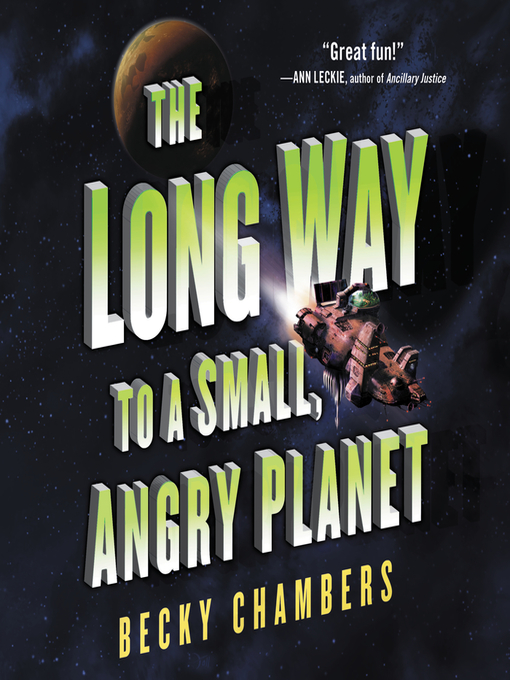 A creator I recently came across who is quickly becoming one of my favorite people to follow, Elizabeth Turn (AKA Plant Based Bride on YouTube), recommended this book so I decided to check it out! I've been getting more into reading sci-fi in the past couple years, so I'm looking forward to giving this one a try. I don't know much about the plot…but it's the first in a trilogy so hopefully I'll have plenty more to read from Becky Chambers.
Up next: The Bullet Journal Method by Ryder Carroll
I've been using the bullet journal method for several years now and it's the best way I've found to organize my thoughts, events, and to-dos (and have a bit of fun with doodling along the way). I discovered this practice through Ryder Carroll's blog, but I never picked up the book he came out with a few years ago because I figured I already had the method down and didn't need to read about it again. It was recently recommended to get more insight into the mindfulness aspect of bullet journaling, so now I'm giving it a go!
What are you reading these days? Any thoughts on these books or recommendations for others? I'd love to hear about it!