Ah, October. The proper start of fall, and more specifically, of ~spooky season~. Fittingly, I have a couple of spooky goals for this month, and I'd like to share them with you.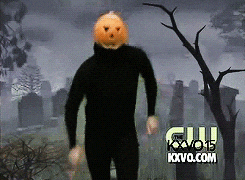 I set goals at the beginning of each month in my Bullet Journal. If you're not familiar with the Bullet Journal, or BuJo for short, you can read allllllll about it here. Basically, it's a freehand, paper system for keeping track of anything and everything in your life. (The creator, Ryder Carroll, describes it as "The Analog Method for the Digital Age." It's a succinct description, but I don't love its "not like other girls" energy. No shade, Ryder—I would be lost without you!)
The "Monthly Log" is one of the main tenets of the Bullet Journal system, and that's all I'll say about that because I could easily go down a wormhole of Bullet Journal content. (If that's something you want to read more about, please let me know!) Anyway, my monthly log is pretty utilitarian (except for the festive little pumpkin), and it has three major components: my calendar, my goals, and my activity tracker.
My calendar is set up Ryder's way, in a vertical list of each day of the month. Here, I've jotted down any events, appointments, meetings, etc. that I know I have. I'll add to this throughout the month as I continue to fill out my schedule. This area is more of a complement to Google Calendar, which is my main scheduling tool. Still, I like to have a paper version handy so I don't always have to whip out my phone to double-check a date or deadline.
My activity tracker is parallel to the calendar, on the rightmost edge of my monthly spread. Here, I log any kind of physical activity I had during the day, whether it's fieldwork, a fitness class, or a particularly strenuous bike ride. As you can see, there's nothing here so far…But it's still very early in the month, so I'm cutting myself a break.
Finally, my monthly goals take up most of the right-hand page. I thought it would be fun to go through these with you. Let's take a look!
Goal 1: Read 4 books
This is a goal I set every month, for the average rate of a book a week. I am a pretty fast reader, so as long as I have started a book, I can almost always finish it within a week. However, life sometimes gets in the way, and I don't often meet this goal. I also have a separate page in my BuJo to keep track of all the books I've been reading—get a taste of that in my last post.
Goal 2: Plan a Gilman event
This year, I'm serving as an Alumni Ambassador for the Gilman International Scholarship. Part of my duties as an Alumni Ambassador include planning a couple of events for prospective, current, or former Gilman Scholars, and I want to make that happen this month.
Goal 3: Start writing research proposal
My master's program is research-based, and since I'm in my first semester, I am not doing much fieldwork yet. However, I do need to dive into some background research for my proposal, and I should start working on it soon.
Goal 4: Write at least four blog posts
Hey, it's a blog-related goal! This is already my second post by the third day of October, so I'm doing pretty good on this one. 🙂
Goal 5: Publicize my blog on social media
By "publicize," I just mean to post the link so that people in my life actually know I'm doing this. It's a way to hold myself accountable for posting as often as I can! And hopefully so that anyone who's interested can keep up with my life in this format.
Goal 6: Be active 3x/week
This is another recurring monthly goal that I try to stick to. I monitor this via the adjacent activity tracker.
Goal 7: Prep for NaNoWriMo
I decided a few days ago to participate in NaNoWriMo this year. And it's in the Bullet Journal now, so…it's official!! If you're not familiar, NaNoWriMo = National Novel Writing Month. It is a "competition" to write a 50,000-word novel in the month of November. This month, of course, is October, so I'm dedicating it to preparing for this writing challenge. My sub-goals include: reading a book about writing; outlining my story/plot; and completing "NaNo 101," a crash-course prep guide to make sure I'm in a good position to start writing on Nov. 1st. I've never written a novel before, much less one in 30 days, so I'm excited but nervous for this task! I'm hoping that continuing to post on this blog will warm up my writing muscles.
I decided to do NaNoWriMo this year after learning that Erin Morgenstern wrote her debut novel "The Night Circus" over the course of a couple NaNoWriMos! Her journey to authorship is seriously inspiring.
Goal 8: Look into tarot
A few months back, my lovely friend Robin gave me a tarot deck after I expressed interest in one of his readings. I'm not really a superstitious person, but I'm intrigued by the history and mythology behind tarot and the level of interpretation it allows. To that end, I've vowed this month to get serious about it! I'm going to read a book about tarot (I checked out some cool-looking old ones from the school library) and do my first reading.
Funnily enough, this goal was also inspired by "The Night Circus," a book in which tarot plays a significant role. Who knew that reading novels could lead to reading the future?
So, those are my goals for October. I'll check back this time next month to update you all on my progress, and share the new goals for November. Hopefully, I'll be a few thousand words deep in NaNoWriMo by then!
What are your goals for this month? Have you ever done NaNoWriMo, and if so, do you have any tips for me? Let me know!